Entertainment
Aishwarya Rai keeps mask on upon return from UAE as Covid cases rise in Mumbai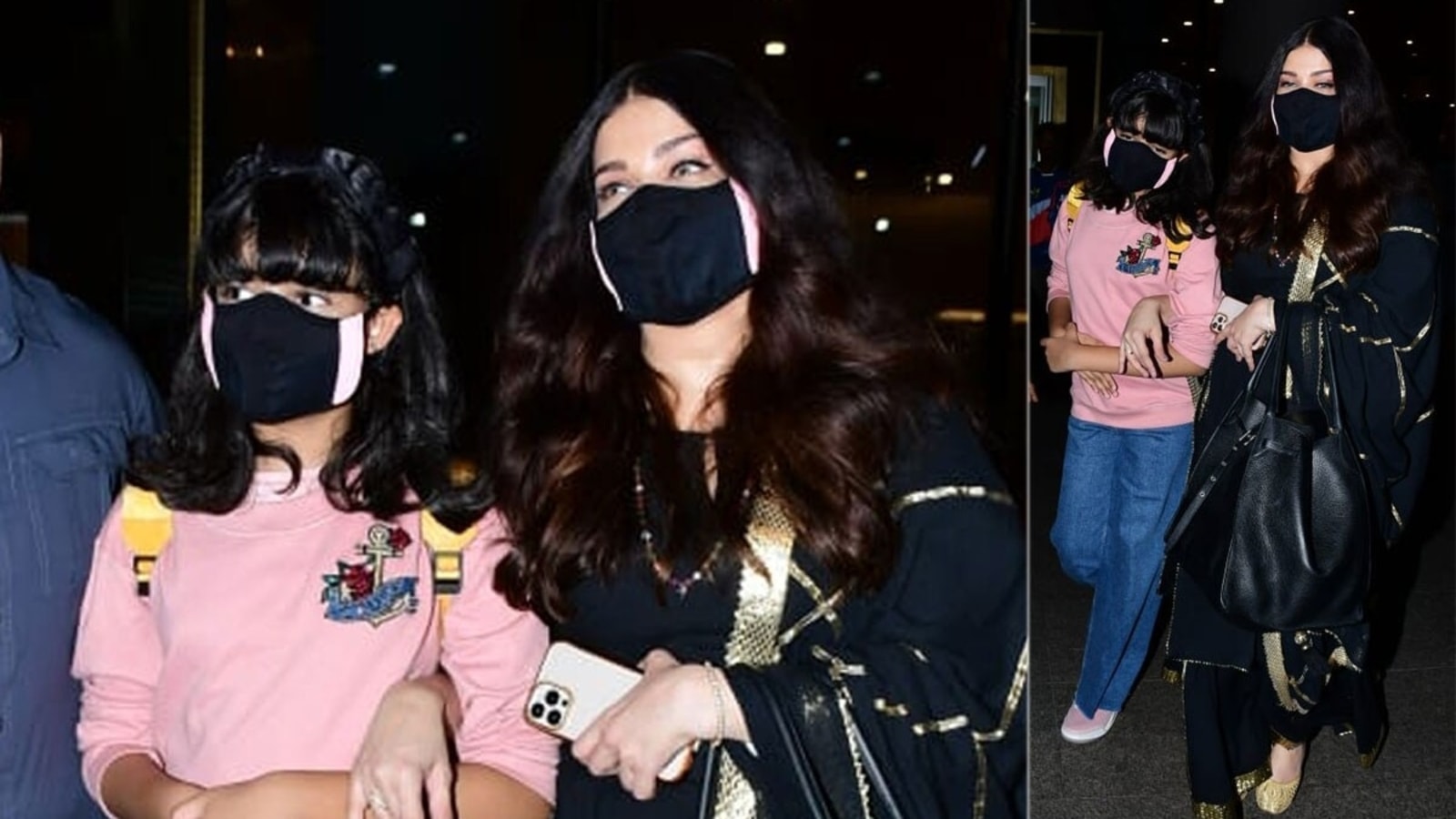 Aishwarya Rai and daughter Aaradhya Bachchan returned from Abu Dhabi on Sunday. The two were spotted wearing masks at the Mumbai airport as Covid-19 cases in the city saw a huge surge with all from Shah Rukh Khan, Katrina Kaif to Kartik Aaryan testing positive for the virus. The two had accompanied Abhishek Bachchan to cheer for him during his dance performance at the IIFA Awards. Also read: Aishwarya Rai buries her face in Abhishek Bachchan's arm on being reminded they've been married 15 years. Watch
A paparazzo account on Instagram shared a video of them from the airport. It shows Aishwarya in a black kurta-salwar and dupatta, with her arm around Aaradhya's hand as they walk out of the airport together. While Aaradhya's face is hardly visible in the mask, with her hair covering her forehead, Aishwarya too is seen wearing a black mask and keeping Aaradhya close as they walk hurriedly towards their car.
A fan even commented on the video, "All celebrities are back to wearing masks." Another commented, "Strange woman. Wearing mask outdoor. At the awards in crowded venue she had no mask."
Aishwarya had walked the green carpet with Abhishek at the IIFA Awards in Abu Dhabi. She and Aaradhya had also attended the event as Abhishek performed on stage. A video also shows Abhishek grooving in front of the audience with Aishwarya and Aaradhya among them. Aishwarya also joined Abhishek to groove along with him while being seated.
While leaving for the Cannes Film Festival, Aishwarya was without mask and even posed for selfies with fans. She also posed with Abhishek and Aaradhya without mask.
Katrina had attended Karan Johar's birthday bash with husband Vicky Kaushal last month but didn't accompany him to IIFA Awards in Abu Dhabi. According to a News18 report, Katrina has completed her quarantine period. On being asked about not having Katrina by his side, Vicky said at the IIFA Awards, "Even I am missing us together as well".
Shah Rukh testing positive for Covid-19 could only be confirmed when West Bengal CM Mamata Banerjee tweeted about it. She wrote on Twitter, "Just came to know that our Brand Ambassador Shah Rukh Khan has been detected covid positive. Pray fastest recovery for the superstar. Get well Shah Rukh! Spring back asap!"
Recently Kartik also shared on Instagram that he had tested positive for the virus. He skipped IIFA and continued to share updates on the platform.
Trending Topics to Follow