Is it possible in Delhi that people are getting eager to eat Chole-Chole in this hot summer. They are so crazy about eating this dish that they stand in line in the scorching sun and then get satisfied by eating whole chickpeas and drinking thick lassi together. Yes, we saw such a sight. The same is true for those who eat chole-bhature in this restaurant. The special thing is that this restaurant was opened only two years ago, but today it has its presence in the whole area.
The heat is also neutral in front of the whole chickpeas.
You must have heard the name of Pitampura's TV tower. From here a road leads to Gopal Mandir. Here there is a restaurant named 'Bille Di Hatti' in the market of RP Block. In normal days, there is an influx of eaters in this restaurant, but on weekends or holidays, it seems as if the shopkeeper has opened the Bhandara. There is a lot to eat in this shop, like Bedmi Chole, Kadhi-Rice, Chole-Rice, Rajma-Rice and many more are available. But, there are people that are going broke on the puri-chhole of this restaurant. If you go in the morning, people are queuing to get it in the hot summer and after getting it, if there is no space inside the restaurant, then they are eating standing outside. In summer, sweat is coming from the face, clothes are getting soaked, but this heat is also being faced in front of the whole chickpeas.
Apart from badmi chole, puri-chole, curry-rice, chole-rice, rajma-rice, there is a lot to be found on 'Bille Di Hatti'.
Lahori is going to run Bille Di Hatti
Actually this restaurant was opened in this area only two years ago, but it is very old. It is run by Lahoris and they have kept the taste of their chole and poori the same, which was once eaten in Lahore. The pungency in chickpeas is negligible and the taste is a bit different. Fry potatoes are also accompanied by these chickpeas, which enhances the taste. This masala is associated with puri. Inside the poori, a little spicy lentil pitti is filled. Just eat and enjoy. The cost of a plate of whole Chole is Rs.80. With this, enjoy the thick, creamy lassi as well, the fun will be doubled. Its big glass is 80 rupees.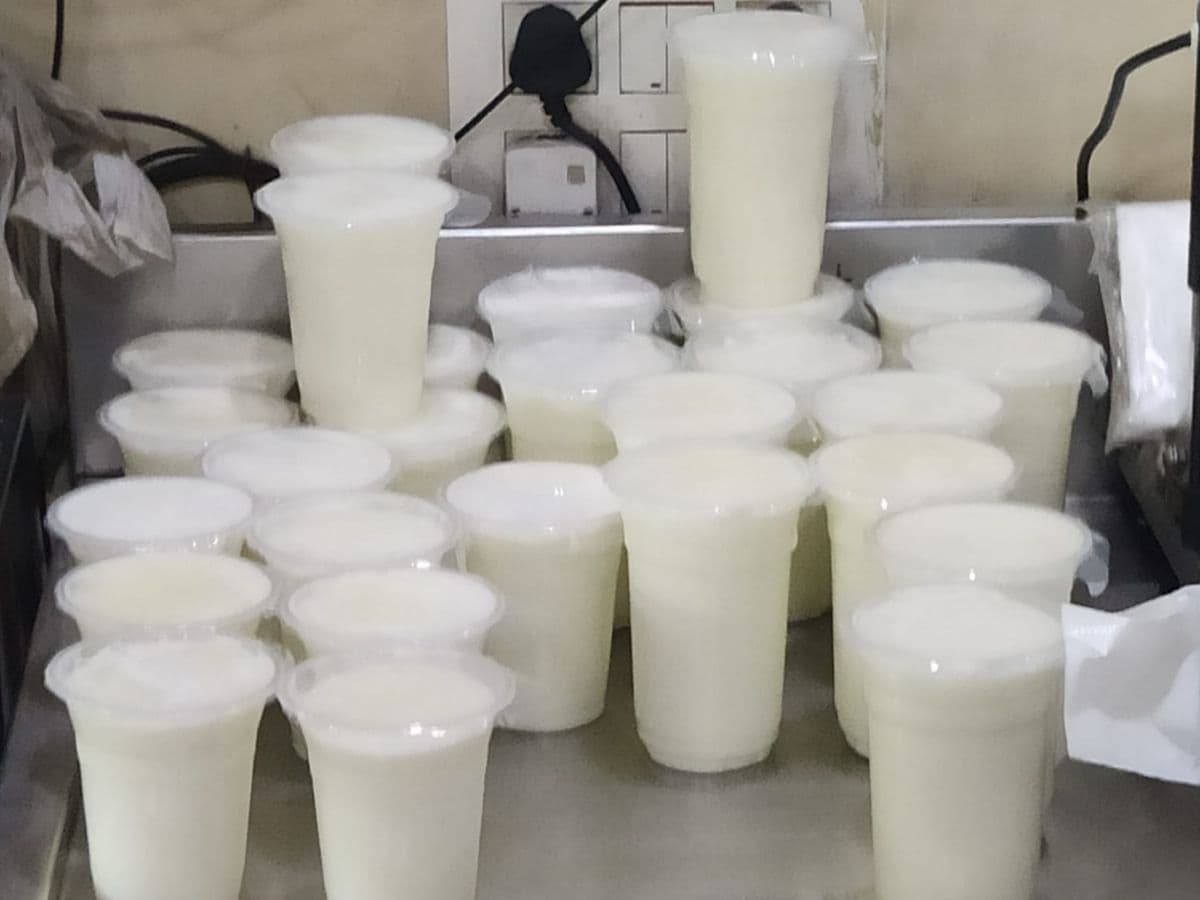 A glass of thick, creamy lassi on 'Bille Di Hatti' costs Rs 80.
Taste of every food
When the puri-chickpeas are settled in the morning, then the chole-bhaturas start together, along with many items keep on going. These include rice and other vegetables along with them, as well as bread pakoda, paneer pakoda, samosa, jalebi etc. Eat whatever you like, everyone's taste is good. The restaurant of the same name is running in Kamla Nagar area since the year 1952.
Spices told by ancestors are still being used today
Two years ago another restaurant was opened in this area. The owners are surprised that from the very first day people gathered here to eat. Ritu Manchanda of the fourth generation is handling this restaurant. They say that the spices and the method of preparation which our ancestors had gone through, are being implemented even today. The restaurant opens at 7 am and dinner can be enjoyed till 8 pm. There is no holiday.
Nearest Metro Station: Netaji Subhash Place
Be the first to read breaking news in Hindi News18 Hindi | Today's latest news, live news updates, read most reliable Hindi news website News18 Hindi |
FIRST PUBLISHED : May 17, 2022, 08:47 IST